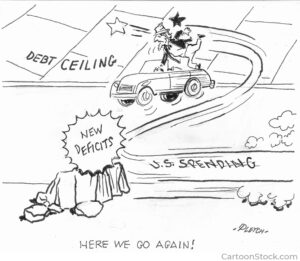 Well, since we are being bombarded with news of the next "Debt Ceiling Showdown," I thought I'd resurface this blog post from just a few months ago (May 2023).
https://lineawealth.com/no-ceiling-in-sight-may-05-2023/
Nothing has changed here folks…except there is no Kentucky Derby race this weekend. Swap that out with your favorite football team's game and this post from May will be quite relevant for the next few weeks. Remember, Congress needs a win as much as anyone. The best way to get a sure "W" is to manufacture a crisis that only YOU can solve.
The opinions voiced in this material are for general information only and are not intended to provide specific advice or recommendations for any individual. All performance referenced is historical and is no guarantee of future results. All indices are unmanaged and may not be invested into directly.
Economic forecasts set forth may not develop as predicted and there can be no guarantee that strategies promoted will be successful.
The opinions voiced in this material are for general information only and are not intended to provide specific advice or recommendations for any individual. All performance referenced is historical and is no guarantee of future results. Economic forecasts set forth may not develop as predicted. Tracking # 481263-1